You must have heard of microcontroller boards even if you are new to programming and electronics. A Microcontroller board is considered a small computer built on a metal oxide semiconductor circuit chip. All types of microcontrollers consist of the same main building parts: central processing unit (CPU), memory, and input/output (I/O) peripherals (programmable).
According to Wikipedia, microcontrollers are used in automatically controlled products and devices, such as automobile engine control systems, implantable medical devices, remote controls, office machines, appliances, power tools, toys, and other embedded systems.
Engineers, enthusiasts, and programmers also use the same microcontroller boards for making DIY (Do-it-yourself) projects and for learning purposes. We have researched and created a list of '10 Best Microcontroller Boards for Engineers & Geeks', let's check out the boards!
Note: As an Amazon Associate we may earn a small amount of commission from each sale on Amazon.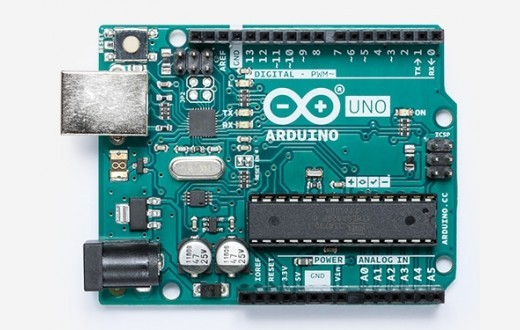 Electronics and technology company Arduino released the R3 version of Arduino Uno in 2011. It is based on the chip named ATmega328P (open-source board). The board has various I/O pins with which you can interface it to other boards and circuits. There are various ports connected including a USB connection port, fourteen number of I/O pins, an ICSP header, a power supply connection, and a reset press. It can be easily connected directly to your personal computer or laptop via a USB cable.
Based on IoT, the Arduino Uno R3 board is the cheapest, ready to connect the board with various available online libraries and resources.
Teensy 4.0 microcontroller board (600MHz processor) is the latest and fastest board available today. It is of small size as compared to other boards and can be used to make various types of DIY projects. All the commands are given via two USB ports to the board. Teensy 4.0 can be programmed by Arduino IDE with a little Add-on.
The microcontroller can be connected to a PC or laptop with a USB cable. It has 1024k RAM compared to 16k RAM of Arduino Uno for more cutting-edge applications.
Arduino Pro Mini 328 is another best microcontroller board from Arduino technology. This mini board is only for small-scale applications up to 5 volts. Arduino Pro Mini 328 board has a 16MHz bootloader. The board doesn't come with the built-in connections and ports, so you may have to solder the connection by yourself. However, if you are on a small budget, then this microcontroller board is a good choice for you.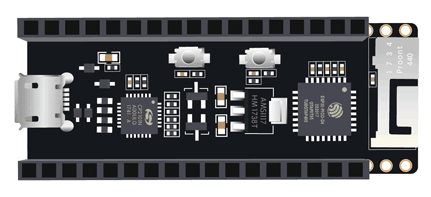 The ESP32 microcontroller board is Bluetooth and Wi-Fi duo combo on a single-chip board (2.4 Giga-Hertz) with ultra-low power consumption. The board is considered to be the best choice for applications where the best RF performance is required.
The board is a bit costly but its power features pay the price. The ESP32 microcontroller board is used for DIY projects like smart home and IoT based projects.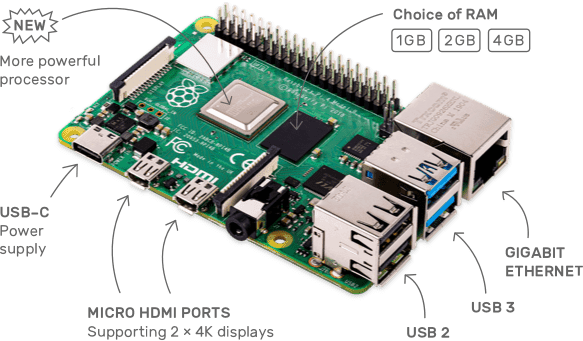 Released in 2019 Raspberry Pi 4 is the fastest microcontroller board available today. With its 4GB RAM, you can build powerful and advanced electronic projects. Raspberry Pi 4 can offer up to 1.2A current for USB devices. It's available in different RAM choices, ranging from 1GB up to 4GB. More features include onboard wireless LAN, Bluetooth 5.0, two USB 2.0 and USB 3.0 ports, two Micro HDMI ports, and a Gigabit Ethernet port.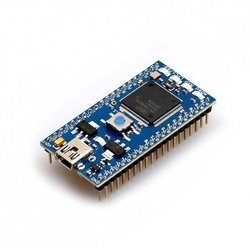 MBED LPC1768 microcontroller board is mostly designed for prototyping applications. It includes a built-in USB FLASH programmer. The board is based on the NXP LPC1768, 32-bit ARM M3 core. The RAM is 32K with 512K FLASH.
It consists of I/O peripherals, a USB port, and built-in Ethernet. For new developers and engineers, MBED has a number of online communities to share libraries and resources which can be easily accessible by any user for prototyping solutions.
BeagleBone Black is one of the cheapest development boards available. You can start developing in just five minutes by connecting your PC with a simple USB cable. It consists of 512M RAM with 4G FLASH storage. It has 46 × 2 number of header pins, Ethernet, 2 USB ports. The higher number of I/O pins makes it more suitable for electronics projects. It also has reduced consumption of power with no requirement of heat sinks.
ESP8266 is small in size as compared to other microcontrollers with IoT capability. It has a very low cost (around $3.0 USD). It can be used for DIY smart home projects which includes the Internet of Things. This board can also be used for making your personal assistants like Cortana or Alexa. It includes 128K RAM with 4M of FLASH memory but what makes ESP8366 better is that it can be used to make its own network for other devices to connect with it.
Quark D2000 microcontroller is one of the most robust microcontrollers and has more I/O controls than other microcontrollers. It is based on ×86 intel Microcontroller family. It is a 32-bit microcontroller running at 32MHz with 8K SRAM and 32K FLASH. It is tremendously flexible as it requires only up to 3.3 volts DC supply.
Launchpad MSP430 is most useful for the application of Energy Trace on-board emulation and debugging. It is also an ultra-low power consumption microcontroller with 4k RAM which can be used as an alternative for Arduino Uno R3. It has a special programming software (IDE) used for coding and debugging called Energia, it is more user-friendly and is similar to Arduino's IDE.
Updates:
On Jan 21, 2021 Raspberry Pi introduced its first ARM micro-controller board – Pico, we have added Pico to the list below. We will update the list as our readers suggest other micro-controllers.
Raspberry Pi can't be categorized as a microcontroller, however, it can be used as one. The Raspberry Pi Zero W extends the Pi Zero micro-controller family and comes with added wireless LAN and Bluetooth connectivity. It has all the functionality of the original Pi Zero. It has a single-core 1GHz CPU and 512MB RAM. Raspberry Pi Zero W is a great choice for making embedded Internet of Things (IoT) do-it-yourself projects. It's very economical and costs around $10 USD.
The Raspberry Pi Foundation yesterday announced the Raspberry Pi Pico, the company's first microcontroller. Like other Raspberry Pi products, the new Raspberry Pi Pico is incredibly affordable at only $4, but it features the Foundation's first custom chip: the RP2040.
Raspberry Pi Pico is a tiny, fast, and versatile board built using RP2040, a brand new microcontroller chip designed by Raspberry Pi in the UK. Designed by Raspberry Pi, RP2040 features a dual-core Arm Cortex-M0+ processor with 264KB internal RAM and support for up to 16MB of off-chip Flash. A wide range of flexible I/O options includes I2C, SPI, and — uniquely — Programmable I/O (PIO). These support endless possible applications for this small and affordable package.
Also Read: Top 10 IoT Development Boards for Engineers & Geeks
These boards are very easy to use and lots of tutorials for building electronic projects are available on YouTube. Programming experience is a plus if you want to work with microcontrollers, however, it's not mandatory as you can find the source code from online ready to use libraries.