Our team at Engineering Passion has researched solar design software tools that are both free and open-source that can be used to design and simulate residential and commercial solar power systems. While there are many tools available for the design and analysis of solar energy (PV) systems, most of them cost more than $500 USD just for their basic packages. 
So we've compiled this list of free solar panel energy software, details of their best features, and who they are suited for and to help you choose the perfect design tool for the accurate design and simulation of your projects.
As a solar power designer, I know how important it is to make systems that are energy-efficient and cost-effective. That's why this software is so essential for solar designers, planners, or sales consultants in order to design accurate proposals for potential customers going solar.
So let's dive into some important information about solar PV design and simulation software and understand a little more about what they are used for, how to choose one, and the key stages in designing PV systems. 
What is solar design software used for?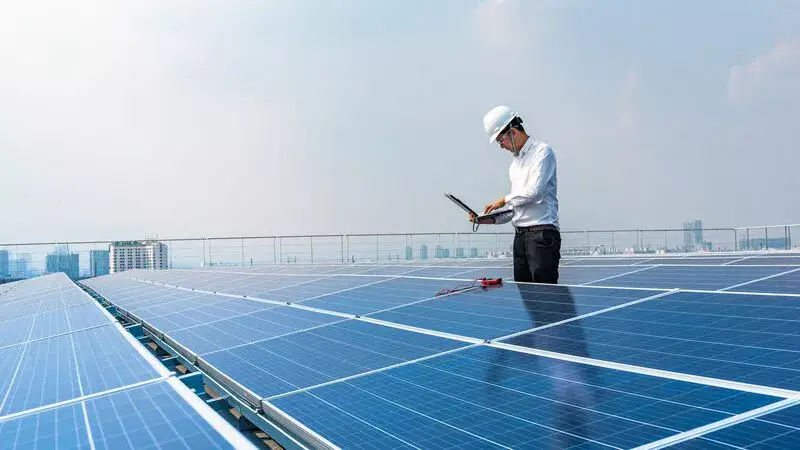 Solar design software is used for designing and modeling solar photovoltaic (PV) systems. They are also used to analyze PV systems' performance. It helps in designing the system by determining the size, options, and specifications of the various components in a solar power system such as the solar panel array, PV inverter, charge controller, and battery bank as well as calculating any system losses.
Solar design software also determines the effects of different orientations and tilt angles on the performance of the system and global factors like shading losses.
A key function of solar design software includes the ability to calculate the cost and payback period of residential and commercial projects.
Essentially solar design software help engineers to design efficient yet affordable on-grid or off-grid solar PV systems.
What are the advantages of solar design software?
Solar PV design software allows energy engineers and designers to carry out many tasks and calculations very easily. These calculations would have been time-consuming without them. The major advantages of using solar PV design and simulation software are:
 It can determine the size of different components in a solar photovoltaic system. Like solar panel array, inverter, charge controller, battery storage system, and so on.


 It calculates the effect of different orientations and tilt angles on the performance during different months. The calculation takes global factors such as shading losses into account.

 It can help calculate the power generation and energy yield of a solar PV system during different seasons of the year to the time of day.

 It helps determine cost-benefit analysis for designing an effective yet affordable system.

 Solar PV software can help generate a report for a project or a plan to meet the intention of designing a solar power system. 
What are the most important features of solar design software?
A good solar design and simulation software should have the following features:
Ease of Use:

The first feature of good solar design software is its ease of use. It should be easy to understand and simple to operate for both engineers as well as technicians.

Flexibility:

This is another important feature that determines the usefulness of a solar system design tool. It helps determine the size, number, and type of each component used in the photovoltaic system. So that performance of the system can be optimized.

Accuracy:

The solar energy software must be accurate in determining the various factors. Like energy yield, the number of panels (PV modules), size of the inverter, and so on.

User Friendly:

Photovoltaic system designing software should be user-friendly. This allows users to get desired results easily after putting the required data into it.

Report Generation:

A good solar PV design software generates detailed reports. Reports help determine the components needed for designing a solar power system. They also help determine and summarize system energy losses, and costs. The report also includes project information such as project name, location, description, etc.

Compatibility:

Good solar design software should be compatible with various operating systems. Like Linux, Windows, and Mac, or alternatively, be accessible by any web browser.
Key stages in designing a photovoltaic system
There are 4 main stages involved in designing a photovoltaic system: 
System Design

Sizing

Performance Analysis

Economic Viability
System design includes collecting site location data. This data includes solar irradiation, shading analysis, and utility interconnection requirements. 
The second step is the sizing process where the size of each component of the PV system is identified. And other parameters like battery capacity or inverter capacity are also determined. This ensures that enough power is produced to meet household energy demand at various times of the day and year.
The performance analysis is where the designed system is simulated using solar PV modeling software. 
Finally, the last step is to determine the economic viability of the project. In this stage, a thorough study of the economics and feasibility for the construction and commissioning of the solar PV system should be conducted.
Best Free Solar PV System Design & Simulation Software
Now you have an understanding of the benefits and features of solar design software. Let's explore the list of  Best Free Solar PV System Design & Simulation Software:
#1 RETScreen – Clean Energy Management Software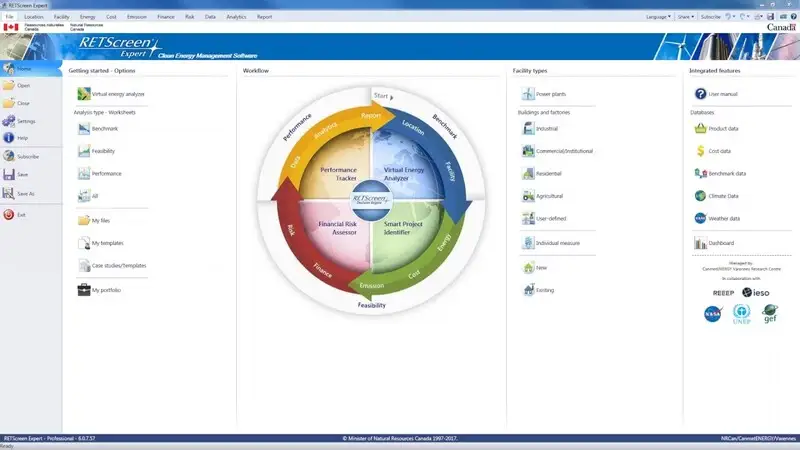 RETScreen allows professionals and decision-makers to find, calculate and optimize the technical and financial viability of potential renewable energy projects. This decision intelligence software also allows managers to easily calculate and confirm the actual performance of their facilities and helps find additional energy savings/production prospects. 
RETScreen Expert, an advanced premium version of the software, is available in Viewer mode completely free of charge. The software currently has over 368,000 active users around the globe.
When I was studying energy engineering school, I used RETScreen quite a lot. RETScreen was really useful for me when I was designing and auditing my renewable energy projects back then. RETScreen offers quite a lot of features that can help in the design and audit of energy projects.
RETScreen Software is Best for:
Energy Managers

Facility Managers

Energy Finance Analysts

Clean & Sustainable Energy Researchers & Students

Other clean energy professionals including policymakers and decision-makers
Also read: What Can Solar Energy Be Used For?
Top Features:
It can help benchmark your energy performance against other similar facilities worldwide.
Managers can import their energy bills into the software to perform financial analysis.
It can help energy professionals determine the best financing option for their renewable energy project with its built-in financial analysis tools.
It provides a detailed cost and use report for each facility.
The software helps determine the emission of greenhouse gases caused by the production, consumption, and transport of energy.
This feature can help compare energy prices. It can be helpful in making decisions on new renewable energy investment projects such as a solar power plant.
It can help track emissions caused by the production, consumption, and transport of energy.
The software provides facility managers with forecasts of actual electricity consumption. It helps them plan for any production shortages.
The software provides facility managers with the ability to proactively manage risks. And improve their facility's energy performance.
RETScreen combines actual weather data with energy consumption information. It helps normalize the effects of weather fluctuations on performance.
RETScreen was initially released in 1998 (23 years ago) and is available in 36 languages.
Click Here to Download RETScreen.
#2 SAM (System Advisor Model)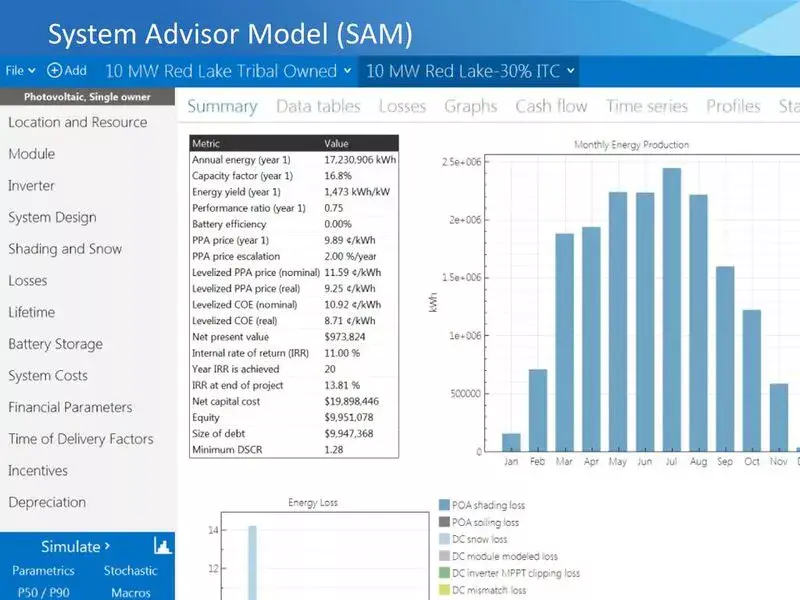 SAM is a performance and economic model. It's designed to simplify decision-making for professionals involved in the renewable and solar industry ranging from project managers and engineers to academic researchers. 
Working knowledge of renewable energy technologies and project finance is a prerequisite for using SAM to get the greatest value of all the solar tools' advanced features.
Also read: How Solar Panel Energy Monitoring Systems Work?
SAM estimates the total electricity production in kilowatt-hours (kWh) for the first year based on hourly weather data for a specific location, and physical specifications of the power system components. 
It then calculates the total energy production for the following years based on an annual degradation factor, and annual cash flows based on financial and economic inputs to define the levelized cost of energy and other financial metrics.
My personal experience using SAM was to model residential rooftop photovoltaic systems with battery storage systems, I also found it to be an excellent design tool that was easy to use for modeling a variety of renewable energy systems.
SAM is Best for:
Energy Technology Engineers

Project Managers

Policy Analysts

Technology Developers

Clean & Sustainable Energy Researchers & Students
The latest version of SAM (version 2020.11.29)  includes performance models for the following renewable energy technologies:
Photovoltaic systems, from small residential rooftop to large utility-scale systems

Battery energy storage with lithium-ion, lead-acid, or flow batteries

Concentrating solar power systems for electric power generation. Including parabolic trough, power tower, and linear Fresnel

Industrial process heat from the parabolic trough and linear Fresnel solar systems

Wind power, from individual turbines to large wind farms

Solar water heating

Geothermal power generation

Biomass combustion for power generation

High concentration photovoltaic systems
SAM was first developed in 2006 by the US National Renewable Energy Laboratory (NREL). It was developed in conjunction with Sandia National Laboratories and in partnership with the U.S. Department of Energy (DOE) Solar Energy Technologies Program.
As one of the most well-known and highly regarded solar design tools, SAM has over 190,000 users from countries across the world, with approximately 50% being US-based users. [This also includes users from PVWatts which also comes under the SAM umbrella] 
Click Here to Download SAM Software.
#3 PVWatts Calculator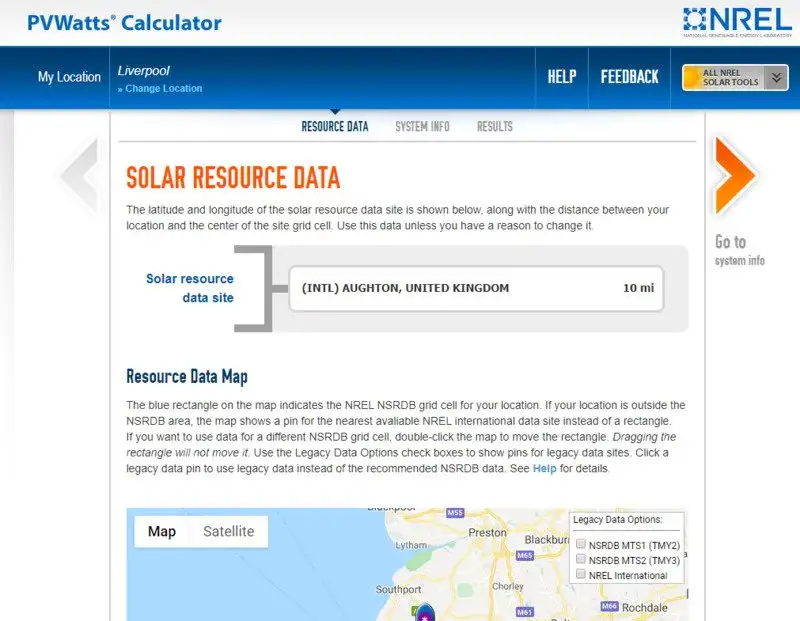 Another powerful solar design tool by NREL. PVWatts calculates energy production and cost of grid-connected PV systems to easily develop estimates of the performance of a potential solar PV installation globally.
NREL's PVWatts Calculator is a web-based application. It can estimate electricity production of a grid-connected roof- or ground-mounted photovoltaic system based on a few simple inputs. 
How to Use PVWatts Calculator?
PVWatts consists of a set of component models to denote the different parts of a PV system. To use the calculator, you simply provide some input information. This information includes location, basic design parameters, and an average annual retail electricity rate. 
PVWatts can also estimate annual and monthly electricity production, and its monetary value. 
I highly recommend PVWatts. It's a free and easy-to-use web app for solar PV system simulation and design. I've used PVWatts to run quick simulations of solar energy projects before actually implementing them. And PVWatts was very accurate and helpful. Especially in terms of energy production estimations for my solar projects.
PVWatts is Best for:
Energy Engineers

Homeowners

Small Business owners

Energy Technicians & Solar Professionals

Renewable Energy Professionals

Clean & Sustainable Energy Researchers & Students
PVWatts is a cloud-based Solar PV System software and was first released in 2016 (5 years ago).
Click Here to Access PVWatts Calculator.
Also Read: Can a Solar Panel Charge a Power Bank? Choose the right charger.
Bonus tip: We've created two interactive maps for World Renewable Energy Generation & World Renewable Energy Capacity that shows the capacity in megawatts and units generated in gigawatt-hours for each country. These maps use the data provided by IRENA (International Renewable Energy Agency) as a data source.
A complete list of the world's top renewable energy installed capacity and generating countries, regions, and continents are included. You can access these renewable energy interactive maps using the links below:
These maps can help renewable energy engineers, experts, and researchers to see the world's renewable energy data in a visual and more interactive way.
Frequently Asked Questions
What does a solar PV design engineer do?
A solar PV design engineer is in charge of determining the different components required for constructing a solar power system such as the size of solar panels, number and capacity of PV inverter, charge controller, and battery storage installation.
To design a solar power system, engineers use software to calculate the cost and benefits. Then they can make a decision on it. Their main job is to design and install efficient yet cost-effective residential and commercial solar energy systems.
What are the major design components of solar energy (PV) systems?
The major design components that need accurate calculation for solar energy (PV) systems are:
Solar Radiation (Irradiance) Resource Assessment

Load Estimation (Load Profile)

Solar Array Sizing

Inverter Sizing

PV System Monitoring Equipment Selection

Solar Energy Storage Sizing

Racking and Mounting Equipment Selection

System Integration
For a solar project, all these design component calculations have to be performed under consideration of losses. They occur across various parts of the system like the losses in an inverter (DC to AC power conversion).
What solar PV software works on a macOS?
You can use both SAM and PVWatts solar system design software on your Mac computer. SAM is a desktop software that runs on Windows, Mac, and Linux. PVWatts is a web app, so it may be used on any computer, tablet, or smartphone with an internet browser.
RETScreen application is only available for Windows OS at the moment. 
What information is used by solar energy software for designing PV systems?
The types of inputs required by solar energy software include the site location, total load, type of PV system (on-grid or off-grid), brand selection of various system components, and electricity costs.
All programs have different inputs. For example, PVWatts calculates electricity production for grid-connected systems. It relies on input data including the system's location, basic design parameters, and an average annual retail electricity rate.
Are BlueSol, PVSyst, HOMER, and Helioscope software available for free?
BlueSol, PVSyst, HOMER and Helioscope software are not free for use. They are commercial solar energy design software. But some of them offer student & startup licenses at reduced prices or a limited free trial.
What is the difference between PVsyst vs Helioscope software?
Both PVsyst and Helioscope are great solar energy design software. They can be used to estimate the performance of grid-connected, off-grid, and battery storage system designs.
The only difference is that PVsyst has more features to design a small to medium size solar PV system than Helioscope. PVsyst offers a lot of built-in tools to design a solar energy system and help you with PV layouts. But, unlike PVsyst, Helioscope has a more user-friendly graphical user interface. It also provides Google Earth and SketchUp support. Helioscope also provides 3D models and 3D objects design capabilities for solar designers.
Bottom-line:
Solar energy is an abundant source of clean energy. Solar cell technology utilizes solar energy to produce electricity. Solar energy can be used to power many products such as smartphones, wearables to solar dryers, freezers… Solar PV Simulation software can help design and simulate a PV system before actually building one. They can also help you estimate the project costs.
The software listed here are user-friendly, reliable, accurate, and has up-to-date databases. Besides these, some other free and open-source software are available for PV system simulation and analysis. But most of them are no longer maintained or deprecated, so we didn't include them here. 
Engineering Passion would also like to thank the U.S. Department of Energy's National Renewable Energy Laboratory (NREL) and Natural Resources Department of Canada for developing these software which are available for free download.
We update this list consistently as new solar power system software are developed or any changes are made to the existing software.